September 23, 2022
Flooring Answers: Vinyl Tile – Chapter Three LVT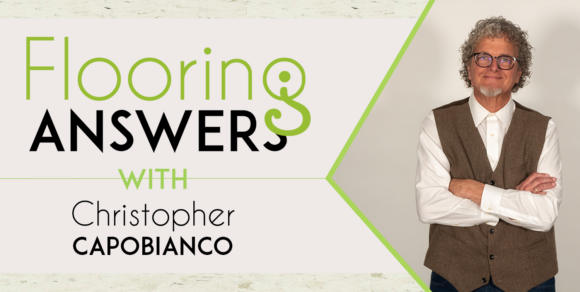 I've been in the vinyl tile business since the 1970s and today the category is more popular than ever, but growing popularity comes with confusion in terminology that's misused and misunderstood. This four-part series will clarify terms like VCT, LVT, SPC and other terms to give specifiers and the trade some language and resources for the correct specification of these products.  Industry standards for resilient floorings are set by ASTM, and I'll reference the appropriate standards as I go.
Part 3 – "Luxury" Vinyl Tile (LVT)
What's it all about?
Terminology of LVT: Layers, Mils, EIR and more
In part two, I explained that the industry standard (ASTM F1700 Standard Specification for Solid Vinyl Floor Tile)  has three classes that describe the "material and manufacture" of the different products. It doesn't mean one is better, just different. Class III, Printed Film Vinyl Tile has been on the market since the 1970s and today is often called "Luxury Vinyl Tile" or "LVT." It is important to note that "LVT" is a marketing term, not an actual category. Some residential "LVT" is VCT with a printed top layer, not Solid Vinyl, so the performance may be different.  For commercial projects, specification language is important.
There are multiple layers to the material; the design and color we see is a print film that emulates wood, stone, concrete, linen and so on. Beneath the print film are multiple layers that support the flooring and provide a backing. The top layer is where the rubber meets the road, or shall I say where the shoe hits the floor? The clear vinyl wearlayer protects the design and there may be a polyurethane (PU) top coating to improve scuff resistance, or other mineral additives for resistance to scratching or added slip resistance.
Wearlayer thickness varies, so pay attention to this detail!  F1700 specifies, "for commercial applications, the wearlayer shall be a minimum of 0.02 inches (0.5 mm) thick*."  This would also be called a 20 mil wearlayer. Important note is the difference between a "mil" and a "millimeter;" they are not the same. One mil = 1/1000".
"What's the wear layer?" is a question I answer on a regular basis when someone needs to differentiate between similar looking products.  For example, some LVT for residential applications has a 6, 8 or 12 mil wearlayer. This is suitable for light traffic, but in commercial spaces, that 20 mil minimum is important.
The final part of the manufacturing process is called embossing, which is the surface texture.  "Embossed in register" (EIR) is when the embossing follows the print film exactly, such as where a wood grain print has the wood grain texture lined up exactly with the print, or a diamond plate metal look tile is accurate visually as well as texturally.
Thickness Options
Today's LVT is sold in thicknesses of 2mm to 5mm, depending on the product, and that's not including the whole category of SPC, "click" vinyl that we will cover in part four.  Historically, in North America and Asia, 3 mm (1/8") has been a standard, but in Europe, 2.5 mm was more common. Both products are still in use here for commercial application, although I think 2.5mm is more common because of lower cost. I don't consider it a big point of difference, because the wear layer is a more important indication of durability. The 2mm thickness for residential application came into use in the past 10 years or so for multifamily residential application. This is where you will see marketing lingo like "2mm/8mil," meaning 2mm thick with 8 mil wear layer.
"Loose lay" LVT are products that are generally 4 mm – 5 mm thick and can be installed with adhesive just around the perimeter of the room, or on the entire floor. These tiles sometimes have a textured backing that said to help to hold the tile in place. Designers have told me they like these products because 5 mm thickness transitions nicely to low pile carpet for a side-by-side installation without the need for a transition molding. Installers and flooring contractors have told me they like this product because the extra thickness hides "telegraphing" of minor subfloor irregularities better than the thinner LVT.
Adhesive
I have always used manufacturer's branded adhesive – it's like an insurance policy. If there is a problem, the tile and adhesive came from the same place, same warranty, no finger pointing.  When I worked in technical support for an LVT manufacturer, a great deal of research went into the right adhesives for our products, so we knew they worked. As I said in part two, there may be different adhesives for different situations, so do the research and specify the adhesive by name.
"Luxury" Vinyl is a crowded and confusing category, so lean on us at Spartan Surfaces to be sure you have the right product for the job and let us help you write the specification to assure success.
 *ASTM Standards available at www.ASTM.org or call 1-877-909-2786 (USA & Canada)
EXPLORE ALL OUR FLOORING ANSWER ARTICLES
EXPLORE ALL OUR FLOORING ANSWER VIDEOS
ABOUT CHRISTOPHER
Christopher Capobianco covers the NY Metro for Spartan.  He's a fourth-generation floor coverer whose family has been in the business since the 1930s, and he's been in it since the 70s in retail, distributor, and manufacturer sales, and also in training and technical support.  He has been a part time columnist for various flooring magazines since 1988 and is a long-time member of the ASTM Committee on resilient flooring. You can reach him here.
ABOUT SPARTAN
Spartan Surfaces is a specialty flooring distribution company headquartered in Bel Air, MD with showrooms in D.C. and Chicago. Employing over 100 team members, its geography encompasses three-fifths of the United States with continued expansion on the horizon. Taking a human-centered approach, Spartan prides itself on great people dedicated to great products, great families, great friendships, and great happiness.