August 23, 2022
Flooring Answers: Vinyl Tile – Chapter Two Solid Vinyl Tile (SVT)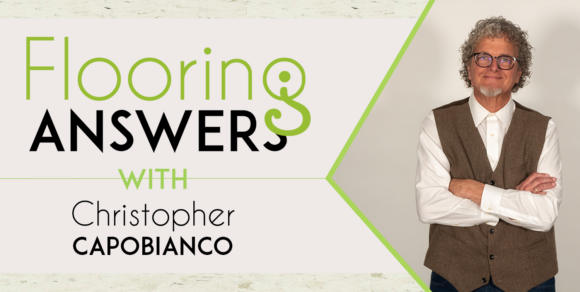 I've been in the vinyl tile business since the 1970s and today the category is more popular than ever, but growing popularity comes with confusing terminology that's misused and misunderstood. This multi-part series will clarify terms like Solid Vinyl Tile, VCT, LVT, SPC and other terms to give specifiers and the trade some language and resources for the correct specification of these products. For example, industry standards for resilient floorings are set by ASTM, and I'll reference the appropriate standards as I go.
Missed Chapter One? Read it here! 
What's the difference?
We described Vinyl Composition Tile (VCT) in Part one of this series and now we will dig into Solid Vinyl Tile (SVT).  SVT has a higher vinyl content, so compared to VCT they are generally more flexible, more indentation resistant, less porous, and easier to manufacture in larger sizes and with unique visuals. ASTM F 1700 classifies SVT in three classes. The classifications do not necessarily mean that one is better than the other; rather it's a way of describing the "material and manufacture" of the different product types.  So, class one is not "better" than class three, just made differently.
Classifications
The three classifications are Class I Monolithic, which means through color tile with no backing (aka homogeneous); Class II Surface Decorated, (aka "inlaid") with a top color layer over a backing; and Class III, Printed Film Vinyl Tile, (aka "Luxury Vinyl Tile" or "LVT") which has a photographic print film over a backing with a clear vinyl wear layer on top. Class III is the most popular category, including wood look vinyl plank as well as stone, marble, fabric, concrete, and all kinds of other visuals.  We will cover this product in greater detail in Part three.
Of the first two classes in the SVT category, class one is more widely used today. At one time there were several products in the class two category that had colored layer over a backing layer. Those are not as widely available today as the class three products that we call LVT have grown in popularity.  However, Class one SVT is used in a variety of high traffic areas because the "through body" construction creates a very durable, flexible, indentation resistant and non-porous surface.
Many, but not all are "no wax" and do not require the application of a floor finish. Cleaning and buffing are the way to maintain this floor and keep a beautiful sheen, either a high gloss or a matte finish depending on how it's buffed.  I often discuss maintenance for these products because if buffing is not a part of the regular maintenance program, it may be a little harder to take care of these because it is a smooth surface that is more likely to show surface scuffing.
Another area where Class one products are used is in ESD (electrostatic discharge) floors. "Static Dissipative" and "Conductive" flooring are made using carbon or other ingredients that conduct electricity and the flooring system is wired into the building itself so that static charges can be controlled. This is perfect for server rooms, MRI facilities, and electronics repair or manufacturing facilities.
Spec details
When specifying solid vinyl tile products, there are details that I recommend be included in the written specifications. For example, adhesive selection, application, and open time.  SVT almost always gets installed in a "wet set" adhesive system, where the tile is set into the adhesive while it's still wet.  Depending on the circumstances, this could be a one-part acrylic adhesive or a two-part reactive adhesive like epoxy or polyurethane that is mixed in the can before installing.  Two-part adhesive is used in the most severe traffic areas, wet areas or areas that may be subject to temperature change.
The "wet set" method is challenging for the installer, because the adhesive can only be spread in small areas at a time and the installer must work backwards so as to not kneel on the newly set tile. The good news is that this adhesive sets very hard, so seams stay tight throughout the life of the floor and the hard-set adhesive adds to the overall durability. Other vinyl tile products may be installed using a pressure sensitive system where the adhesive is allowed to partially or completely dry, so it gets "sticky."
The second method is generally considered to be much easier for the installer, but if you use that method on SVT, you will almost certainly have a failure.  The reason is that SVT has such a high vinyl content that it's more likely to expand and contract with temperature changes. Proper adhesive prevents this. I recommend that the specifier research the adhesive type and insist that it be installed using the methods recommended by the manufacturer.  These are the times when I love to hear from the design team so that we can discuss the substrate conditions and how the space will be used so we can write a good specification for the adhesive.
The other detail that needs to be written into the specifications is the initial maintenance process. Often, SVT products require deep cleaning and scrubbing of the new floor in preparation for the regular maintenance process that will follow.  Whether or not a liquid floor finish is to be applied, this process is important. If it's not done, the floor may be more susceptible to scuffing and just won't look as good as it should.
*ASTM Standards available at www.ASTM.org or call 1-877-909-2786 (USA & Canada)
Explore all our Flooring Answer Articles
Explore all our Flooring Answer Videos
ABOUT CHRISTOPHER
Christopher Capobianco covers the NY Metro for Spartan.  He's a fourth-generation floor coverer whose family has been in the business since the 1930s, and he's been in it since the 70s in retail, distributor, and manufacturer sales, and also in training and technical support.  He has been a part time columnist for various flooring magazines since 1988 and is a long-time member of the ASTM Committee on resilient flooring. You can reach him here.
ABOUT SPARTAN
Spartan Surfaces is a specialty flooring distribution company headquartered in Bel Air, MD with showrooms in D.C. and Chicago. Employing over 100 team members, its geography encompasses three-fifths of the United States with continued expansion on the horizon. Taking a human-centered approach, Spartan prides itself on great people dedicated to great products, great families, great friendships, and great happiness.