July 21, 2022
Flooring Answers: Vinyl Tile – Chapter One Vinyl Composition Floor Tile (VCT)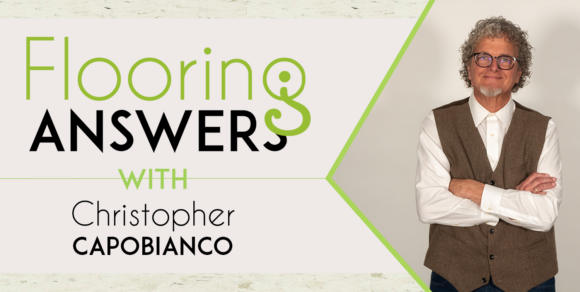 I've been in the vinyl tile business since the 1970s and today the category is more popular than ever, but growing popularity comes with confusion in terminology that's misused and misunderstood. This multi-part series will clarify terms like VCT, LVT, SPC and other terms to give specifiers and the trade some language and resources for the correct specification of these products.   For example, Industry standards for resilient floorings are set by ASTM, and I'll reference the appropriate standards as I go.
Before we get into Vinyl Composition Floor Tile, check out our Flooring U: Vinyl Tile video for a quick look at the different types of vinyl tile.
It started as Asbestos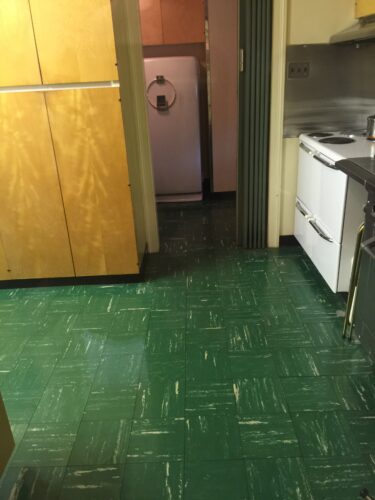 What began as Vinyl Asbestos Tile (VAT) in the1950s was changed to VCT starting in the 1980s. the question, "Is my floor asbestos?" is often answered incorrectly based on the size of the tile and/or the date of installation.
The original VAT and "Asphalt tile" was 9 x 9″ squares, but that's not all.   12" x 12" VAT, sheet flooring and adhesives contained asbestos.
A late 1970s federal law banned it because of links to lung disease caused by inhaling asbestos fibers and the US Environmental Protection Agency (EPA) published rules in 1980.  However, there was a phase in period, so the full ban wasn't until 1992 (flooring) and 1997 (adhesives).  So…don't assume a floor does or does not contain asbestos based on the tile size or age.  When in doubt, have it tested!
Do I have to take it up? NO!
If a VAT floor is in good shape, proper maintenance keeps it sealed, safe and looking good. Also, if that VAT is a single layer, many resilient flooring products can be installed on top of it with proper preparation.
Success with VCT.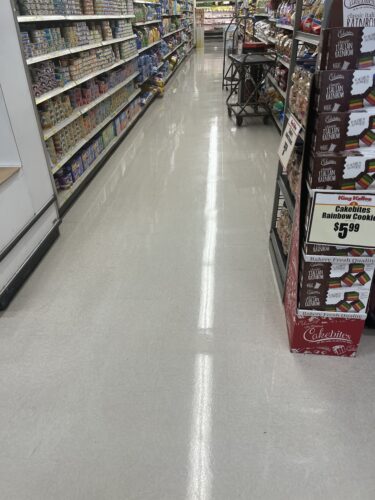 Walk through a supermarket, hospital, or school and chances are you will be seeing a Vinyl Composition Floor Tile floor.  Historically covering more commercial spaces than any other resilient flooring category, VCT is known for low cost and relatively easy installation. Many products fall under the ASTM F1066 standard, with brands like "Standard VCT", "Quartz Tile",  "Vinyl Enhanced Tile" (VET), "Homogenous Vinyl Tile" (HVT), and others.
Sometimes VCT looks great – tight seams and a clean smooth finish. Other times, not so much!  Its commonly assumed that VCT is more moisture and temperature tolerant and resists telegraphing better than other resilient flooring materials.  Not true!  VCT has the same rules for substrate preparation and testing that apply to any other resilient floor covering, per manufacturers guidelines and the industry standard, ASTM F710*.
Moisture related failures can and do happen on VCT, and ASTM F710 requires that "All concrete slabs shall be tested for moisture regardless of age or grade level," and has specifics for substrate preparation and site conditions.  High or low spots in substrates cause bubbling or cracking; even a small irregularity can telegraph through, especially since VCT is often finished to a high shine.
Site conditions, especially temperature, are also important. If you walk into that supermarket and see a VCT with gaps between the tiles, it could the floor was installed in very warm conditions.  Vinyl can expand slightly when warm  but goes back to its original size after the air conditioning is activated. Gaps can also be caused by substrate moisture or alkalinity that affect the adhesive.
Finally, initial maintenance three or four days after installation includes stripping, sealing, and finishing the floor – this process is key!  From then on, the floor must be cleaned and (if a high gloss is required), buffed on a regular basis. Occasional stripping and re-coating are also common to remove the buildup of floor finish and soil that is bound to occur in high traffic areas.
Spec details
I advise specifiers to cover these points with specification language such as "Prior to installation, test and prepare substrates as per ASTM 710 Standard Practice for Preparing Concrete Floors to Receive Resilient Flooring and flooring, adhesive, and patching/leveling compound manufacturer guidelines." Also, "After recommended adhesive drying time, strip, seal, and polish floor according to manufacturer's guidelines."
About these two points, it helps if the construction team establishes responsibility for testing and initial maintenance at the time of bidding. Flooring contractors might not have the staff to do concrete moisture testing or floor maintenance, but it may be assumed that they will be doing it.  Flooring Contractors would be wise to exclude these tasks from the bid in such cases. I prefer that moisture testing be done by an independent third-party, and often floor maintenance is best to be turned over to the owner right away so that they are taking care of the floor from the time it is brand new.  Regardless, these points need to be spelled out well in advance so there is no confusion at the time the job is getting done.
*ASTM Standards available at www.ASTM.org or call 1-877-909-2786 (USA & Canada)
Enjoy your read? Check out my previous Flooring Answers: A Specifier's Guide to Resilient Stair Treads. 
Explore all our Flooring Answer Articles
Explore all our Flooring Answer Videos
ABOUT CHRISTOPHER
Christopher Capobianco covers the NY Metro and Connecticut area for Spartan.  He's a fourth-generation floor coverer whose family has been in the business since the 1930s. For 36 of the last 43 years, he's had roles in retail, distributor, and manufacturer sales.  The other seven years were spent in floor covering training and technical support.  He also has been a part time columnist for various flooring magazines since 1988 and is a long-time member of the ASTM Committee on resilient flooring. You can reach him here.
ABOUT SPARTAN
Spartan Surfaces is a specialty flooring distribution company headquartered in Bel Air, MD with showrooms in D.C. and Chicago. Employing over 100 team members, its geography encompasses three-fifths of the United States with continued expansion on the horizon. Taking a human-centered approach, Spartan prides itself on great people dedicated to great products, great families, great friendships, and great happiness.