August 22, 2019
YCP Alumni Spotlight – Kevin Jablon 95′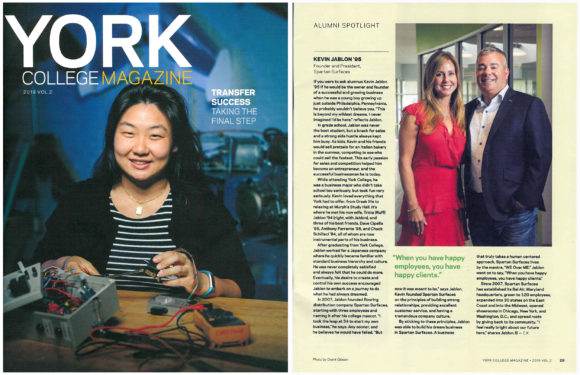 A graduate of York College of Pennsylvania class of '95, Spartans founder, Kevin Jablon, carries a tremendous amount of school pride for his alma mater.  When asked to be featured in an alumni spotlight in an upcoming issue of York College Magazine, Jablon welcomed the chance to tell his story.  Read on for the full interview with Colleen Karl or check out the write up on their website HERE.
York College Magazine – Magazine 2019 Vol. 2
If you were to ask alumnus Kevin Jablon '95 if he would be the owner and founder of a successful and growing business when he was a young boy growing up just outside Philadelphia, PA, he probably wouldn't believe you. "[This is] beyond my wildest dreams. I never imagined I'd be here," reflects Jablon.
In grade school, Jablon was never the best student, but a knack for sales and a strong side hustle always kept him busy. As kids, Kevin and his friends would sell pretzels for an Italian bakery in the summer, competing to see who could sell the fastest. This early passion for sales and competition helped him become an entrepreneur, and the successful businessman he is today.
While attending York College, he was a business major who didn't take school too seriously, but took fun very seriously. Kevin loved everything that York had to offer, from Greek life to relaxing at Murphs Study Hall. It's where he met his now wife, Tricia (Ruff) Jablon '94, and three of his best friends, Dave Cipalla '95, Anthony Ferrante '95, and Chuck Schillaci '94, all of whom are now instrumental parts of his business.
After graduating from York College, Jablon worked for a Japanese company where he quickly became familiar with standard business hierarchy and culture. He was never completely satisfied and always felt that he could do more. Eventually, his desire to create and control his success encouraged Jablon to embark on a journey to do what he had always dreamed.
In 2007, Jablon founded flooring distribution company Spartan Surfaces, starting with three employees and naming it after his college mascot. "I took the leap at 34 to start my own business," he says. Any sooner, and he believes he would have failed. "But now it was meant to be," says Jablon. Kevin founded Spartan Surfaces on the principles of building strong relationships, providing excellent customer service, and having tremendous company culture.
By sticking to these principles, Jablon was able to build his dream business in Spartan. A business that truly takes a human centered approach, Spartan Surfaces lives by the mantra, "WE Over ME". Jablon went on to say, "When you have happy employees, you have happy clients".
Since 2007, Spartan has established its Bel Air, MD headquarters, grown to 120 employees, expanded into 30 states on the East Coast and into the Midwest, opened showrooms in Chicago, New York, and Washington DC, and spread roots by giving back to their community. "I feel really bright about our future here," shares Jablon.
ABOUT SPARTAN
Spartan Surfaces is a specialty flooring distribution company headquartered in Bel Air, MD with showrooms in D.C., New York City, and Chicago. Its geography encompasses the East Coast from Florida through New York as well as regions in the Midwest and Southeast. With over 100 employees in 30 states, Spartan continues to expand its footprint. Taking a human-centered approach, Spartan prides itself on great people dedicated to great products, great families, great friendships and great happiness.