May 15, 2023
Tom Taylor: Servant Leadership – a FCN Op Ed by Kevin Jablon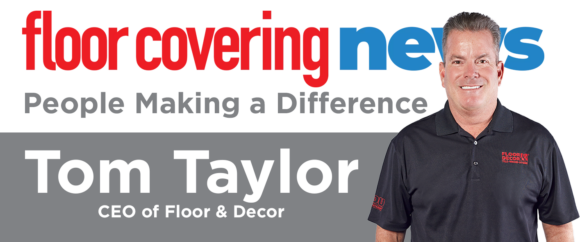 Originally published by Floor Covering News in their annual segment "People Making a Difference", Kevin Jablon wrote of one of his mentors, CEO of Floor & Decor Tom Taylor. Read below
Tom Taylor has been in the retail environment since the age of 16 when he began his career at a Miami Home Depot store.  Over the past 40 years, Taylor has exemplified servant leadership as his career path grew.
A deep listener, Tom has an affinity for hiring great people and helping them excel at their highest level.  His ability to mentor and delegate has allowed him to ensure associates are in the best position for their skillset while prioritizing hiring from within.
As CEO and member of the board at Floor & Decor since December 2012, Tom continues to prioritize his time in each of its 194 warehouse-format stores and five design studios across 36 states. He empowers all store managers, or CEM's (Chief Executive Merchants), to take ownership of their retail location, thus instilling an entrepreneurial spirit that can be seen in the product selection and day-to-day operations.
A passionate servant-leader, Tom has spent his career focusing on the growth and well-being of his team and their overarching communities.  This model has provided continued successes for all who are lucky enough to work under his leadership.
In May 2021, Tom's vision to purchase Spartan Surfaces came to fruition, allowing Floor & Decor to take advantage of existing synergies in the commercial space.  Two years into the acquisition, Tom continues to protect Spartan's culture and strategies, allowing them to continue down the path of growth and success.
See This Article on Floor Covering News
ABOUT SPARTAN
Spartan Surfaces, a subsidiary of Floor & Decor, is a specialty flooring supplier headquartered in Bel Air, MD. Employing over 150 team members, Spartan holds warehousing and offices in Maryland and Minnesota with showrooms in D.C.and Chicago.  Its geography encompasses seventy percent of the United States, with continued expansion on the horizon. Taking a human-centered approach, Spartan prides itself on great people dedicated to great products, great families, great friendships, and great happiness. Whatever you're working on, we've got you covered!