June 19, 2019
Supporting MDA Through Summer Camp and Beyond!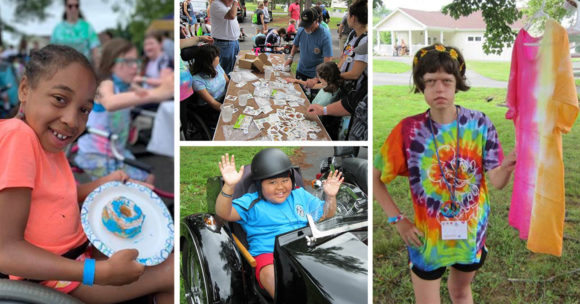 Each year, Spartan Surfaces teams up with a local charitable organization to supply happiness, cheer and financial support to those who benefit from the organization's efforts. With so many deserving foundations it's hard to decide where to focus our efforts each year.  This year, there was no questioning our commitment to Muscular Dystrophy Association of Greater Maryland.  We support MDA this year in honor of loyal employee, Elizabeth Hart's 11-year-old daughter who was diagnosed with the disease at the age of 5.
Since its inception, the Muscular Dystrophy Association has been providing support to families living with muscular dystrophy, as well as supporting scientific research for treatments and a cure. The term muscular dystrophy encompasses a group of diseases caused by a genetic mutation that result in muscular degeneration. This will cause weakened muscle strength and mobility, often beginning in childhood and worsening over time.
Our 2019 giving kicked off in support of Camp Fairlee, MDA's annual week-long sleep-away camp for children ages 8 to 17 who have been diagnosed with muscular dystrophy. At MDA Summer Camp, children participate in activities such as swimming, zip-lining, horseback riding, and other games and activities with their peers. Campers also get to develop valuable life skills and create lifelong friendships – all at no cost to their families.
By attending an MDA Summer Camp, children can take time away from their primary caretakers. This presents them with the opportunity to develop confidence, independence, and interpersonal skills by interacting with others that share the same daily challenges that they do.
This December, our partnership with MDA continues with a black-tie gala at Maryland Golf and Country Club.  Money will be raised in honor of these children through table sales, a live auction, silent auction, raffle and several sponsorship opportunities.  We welcome everyone, near or far, to get involved as every dollar raised will go towards making the lives of these children and their families better.  If you are interested in learning more about how you can join us in impacting the lives of these families, please email social@spartansurfaces.com.
ABOUT SPARTAN
Spartan Surfaces is a specialty flooring distribution company headquartered in Bel Air, MD with showrooms in D.C., New York City, and Chicago. Its geography encompasses the East Coast from Florida through New York as well as regions in the Midwest and Southeast. With over 100 employees in 28 states, Spartan continues to expand its footprint. Taking a human-centered approach, Spartan prides itself on great people dedicated to great products, great families, great friendships and great happiness.