September 26, 2023
Spartan Surfaces Gains National Representation of Parterre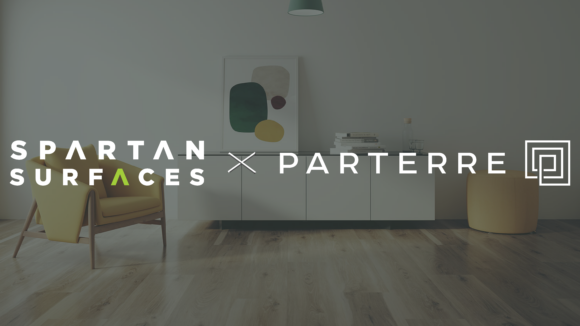 AHF PRODUCTS ANNOUNCES EXCLUSIVE DISTRIBUTION AGREEMENT for parterre brand with Spartan Surfaces

MOUNTVILLE, PA, September 25, 2023 – AHF Products®, a leader in residential and commercial flooring solutions, has entered into a strategic agreement with Spartan Surfaces, effective September 21, 2023. Spartan Surfaces will have exclusive distribution for the full line of Parterre® luxury vinyl flooring products. Parterre has serviced the commercial flooring market for over 30 years with an extensive product portfolio, impeccable design capabilities and an elite brand.
Spartan Surfaces, a subsidiary of Floor & Decor, is a specialty flooring supplier headquartered in Bel Air, MD, with warehousing and offices in Maryland and Minnesota and showrooms in Washington D.C. and Chicago with coverage of over eighty-five percent of the United States. The addition of the Parterre® brand will enable Spartan Surfaces to further accelerate its growth and extend its reach in the commercial flooring category, including the healthcare, education, corporate and hospitality sectors with operations beginning in October 2023.
"An essential part of our growth is aligning ourselves with strong partners like Spartan Surfaces, and this is especially true for the commercial segment," said Fred Reitz, Vice President-Commercial, AHF. "Spartan Surfaces has the experience and resources to help us accelerate our growth plans. We are excited for the future and confident that this partnership will provide our customers with exceptional customer service."
"We are proud to partner with such a well-known and respected flooring manufacturer like AHF, an industry leader in quality, innovation, and design," said Sean Swanson, VP of Growth & Strategy, Spartan Surfaces. "Our entire leadership and sales team is enthusiastic about this new partnership and believes that together we will grow the Parterre commercial business and continue to bring profitable solutions to our valued flooring customers."
Parterre commercial LVT flooring is an ideal choice for any interior design project—no matter the industry or intended application. When it comes to flooring, design teams typically want a durable, long-lasting option that will work well with other interior materials, complement the aesthetic, and fall within budget. On top of that, the flooring has to be easy to maintain and stand up to high traffic. Parterre commercial luxury vinyl flooring offers design versatility, easily being able to replicate the natural look of wood or stone thanks to 3D printing technology. In addition to resilient flooring, the Parterre line includes high-performance and on trend engineered hardwood flooring, ideal for hospitality and Main Street applications.
Created in 1991, Parterre® was one of the first designers and manufacturers of luxury vinyl tile, plank, and sheet flooring products in the United States. Since its inception, it has grown into a leading design brand in the category. Its broad selection of flooring solutions authentically mirrors the look of granite, marble, limestone, and wood, as well as metallic surfaces and other unique finishes.
For more information, visit www.ahfproducts.com.
See it in the News
About Spartan Surfaces
Spartan Surfaces, a subsidiary of Floor & Decor, is a specialty flooring supplier headquartered in Bel Air, MD. Employing over 150 team members, Spartan holds warehousing and offices in Maryland and Minnesota with showrooms in D.C. and Chicago.  Its geography encompasses eighty-five percent of the United States, with continued expansion on the horizon. Taking a human-centered approach, Spartan prides itself on great people dedicated to great products, great families, great friendships, and great happiness.
About AHF Products
AHF Products is a leading hardsurface flooring manufacturer in the USA with a family of trusted brands serving the residential and commercial hardwood and vinyl flooring markets. With decades of experience in award-winning flooring design, product development, manufacturing, and service, we create quality flooring to last for generations through inspiring designs, innovation, and a deep commitment to outstanding customer service. Our residential flooring brands include Bruce®, Armstrong Flooring™, Hartco®, Robbins®, LM Flooring ®, Capella®, HomerWood®, Hearthwood®, Raintree®, Autograph™, Emily Morrow Home™ and tmbr®. Our commercial brands include Bruce Contract™, Hartco Contract™, AHF Contract™, Armstrong Flooring™ and Parterre®. Headquartered in Mountville, Pennsylvania, with manufacturing operations across the United States and in Cambodia, AHF Products employs over 2,000 dedicated team members. www.AHFProducts.com