April 24, 2020
Spartan + FC News Talk Business During Covid-19 Over Happy Hour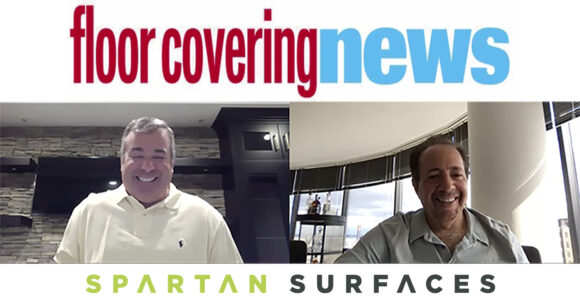 From in-person to video calls, Floor Covering News continues the virtual transition with an interview between Steven Feldman and Spartan's Kevin Jablon.  This 15-minute conversation takes a deep dive into how Spartan's cultural approach has been able to continue without office life, and the trials that have come with our current economy.
Stay tuned for the full conversation and join us all in celebrating our receipt of the PPP loan and the ability to bring back each and every furloughed employee.  We count ourselves lucky for being granted this loan, making our team whole once again. Our sincerest gratitude goes out to our CFO, Adam Gable, and his team for diving head first into securing these funds.  We're committed and excited to take on the next phase, whatever that may be, as a Spartan family.
FCNews publisher, Steven Feldman, sat down with Kevin Jablon, owner of Spartan Surfaces, for a happy hour discussion of current events. Jablon talks keeping busy during downtime, managing expectations, opportunities moving forward and more. Grab a glass and tune in for some helpful insights into coping with COVID-19.
FCNews plans to continue these video chats over the next months to keep the industry united, informed and communicative. If you're interested in participating reach out to Feldman directly at steve@fcnews.net. We welcome our entire industry community to participate.
Stay safe. Stay smart. Stay connected.