April 27, 2020
Spartan and HTMX Launch Elemental by Aspecta Across the US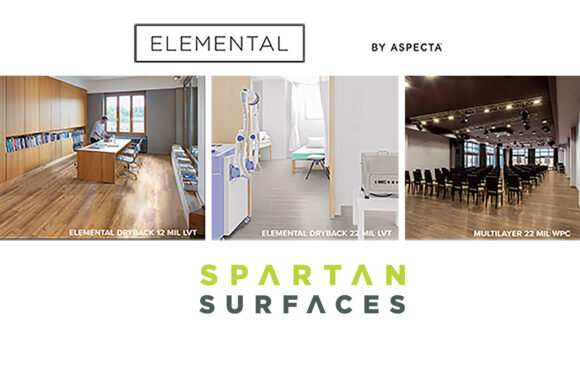 After years working alongside HTMX and bringing multiple products to market, we're excited to strengthen our partnership by introducing Elemental by Aspecta, a product we'll be representing throughout the US.
Offering a wide range of LVT with design and sustainability in mind, HTMX created Elemental by Aspecta to compliment the Aspecta brand. The collections work together to provide stylish and functional flooring for every space.
Read on for the full release and peruse the full Elemental by Aspecta offering by visiting: https://elementalbyaspecta.com/en/
ASPECTA JOINS FORCES WITH SPARTAN SURFACES TO LAUNCH ELEMENTAL BY ASPECTA LVT COLLECTION
NORWALK, CT, April 27th – Aspecta North America, LLC announced that Spartan Surfaces will handle the debut of its Aspecta by Elemental LVT collection in the US as national sales representative. A runaway success in Europe, the Elemental range will meet the needs of more price-conscious markets such as Hospitality, Main Street and Multifamily segments with a streamlined range of dryback and rigid core products.
Alan Rowell, director of sales for Aspecta, said, "The new Elemental by Aspecta will meet a price point demand in the marketplace while allowing us to have an overall 'Good, Better, Best' platform for the Aspecta brand and a complement to our premium, 'Best' Aspecta One, Five and Ten collections. We anticipate that Elemental will echo the same strong acceptance and success of Europe, especially when the hospitality sector rebounds. Spartan Surfaces is the ideal partner to establish this brand in the US: an ideal combination of choice and quality and its highly technical, commercially focused sales organization targeted to the Interior Designers/ Specifiers who will most appreciate Elemental's product and design excellence and value."
Elemental by Aspecta will be available in 4 formats:
GOOD:
Dryback with 2.0mm gauge/12 mil wear layer
Isocoreä/Multilayer Flooring with 6.5mm gauge/12 mil wear layer Droplock 100
BETTER:
Dryback with 2.5mm gauge/22 mil wear layer
Isocoreä/Multilayer Flooring with 8.0mm gauge/22 mil wear layer Droplock 100
BEST:
Aspecta One, Aspecta Five, Aspecta Ten Premium
"Aspecta is already a valued partner who shares our values and vision, and it's very exciting to grow our relationship with them by expanding our geography with Elemental by Aspecta," commented Joey Lester, Spartan's VP of Supplier Relations. "Elemental offers excellent quality with well designed and profitable products that complement the Aspecta line very well. We look forward to embracing Aspecta into what we call the Spartan Experience: driven by passionate people building longstanding relationships through a collaborative approach, leading with innovative flooring designs, and creating successful experiences in everything we do."
ABOUT SPARTAN
Spartan Surfaces is a specialty flooring distribution company headquartered in Bel Air, MD with showrooms in D.C., New York City, and Chicago. Its geography encompasses the East Coast from Florida through New York as well as regions in the Midwest, Southeast and Texas. With over 100 employees in 30 states, Spartan continues to expand its footprint. Taking a human-centered approach, Spartan prides itself on great people dedicated to great products, great families, great friendships and great happiness.