September 17, 2015
Prepare to be FLOORED, Spartan Unveils New DC Showroom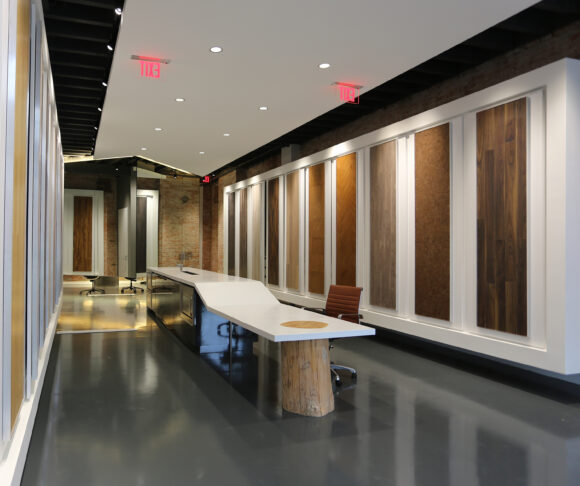 On Thursday, September 17th,  2015 Spartan unveiled our DC showroom with a Grand Opening event.  Nestled just off Logan Circle, Spartan's new showroom will serve as a space for clients and employees alike to enjoy a space for product perusing and design opportunity.
Spartan Surfaces' DC Showroom, designed by Collective Architecture, features a clean, modern design that allows the VAVAVOOM of each product to shine.  The side walls are adorned with large scale sample panels showcasing various products in an array of installations.  The back of the showroom features a conference room sectioned by floating mirrored walls, providing depth and an illusion of grander space to the 1,000-square-foot showroom. Teel Construction worked with Collective Architecture to make these designs an artful reality.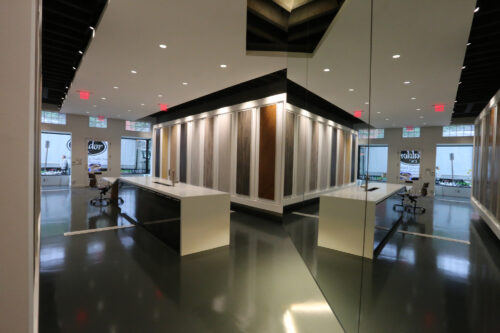 In an effort to create the ultimate palate to showcase a variety of flooring alternatives, SCHONOX was poured and coated with Tennant GPE General Purpose Epoxy covering. The high gloss grey surface brings an element of glamour while creating a clean contrast for any flooring alternative. SCHONOX Renotex and SHP make the floor durable and stable, two very important concerns when it comes to historical buildings in DC, while still keeping the space contemporary.
For more information or to schedule an appointment, please use the details below;
Hours: Monday – Friday 8AM – 4PM
Showroom Manager: Danielle Inman
Email: dinman@spartansurfaces.com
Phone. 443.608.4900
Address: 1614 14th St NW, Washington DC, 20009