September 12, 2022
National Truck Driver Appreciation Week 2022 | Meet the Dream Team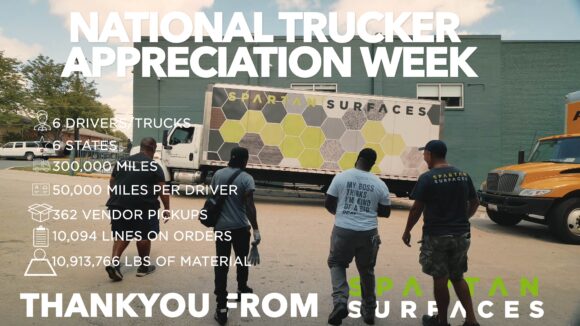 All the respect 👏 and gratitude 🙌 for this truck driver dream team. Our truck driver team wakes up each day ready to hit the road 🚛💨💨 and get the job done while going above and beyond for our customers 🤜💚🤛.
Meet Spartan's Warehouse Powerhouse Team
ABOUT SPARTAN
Spartan Surfaces is a specialty flooring distribution company headquartered in Bel Air, MD with showrooms in D.C. and Chicago. Employing over 100 team members, its geography encompasses three-fifths of the United States with continued expansion on the horizon. Taking a human-centered approach, Spartan prides itself on great people dedicated to great products, great families, great friendships, and great happiness.