September 26, 2023
Kevin Jablon Receives the Distinguished Alumni Achievement Award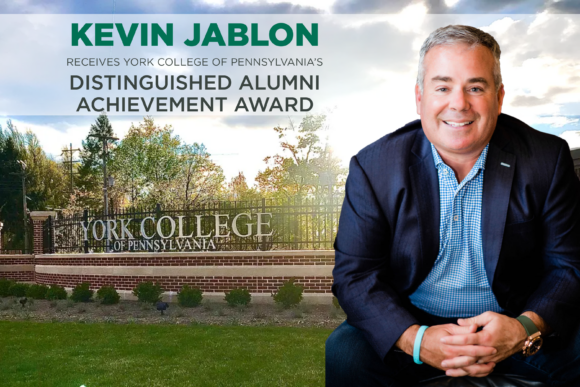 Spartan Surfaces is excited to announce that our Founder & CEO Kevin Jablon receives the Distinguished Alumni Achievement Award from his alma mater, York College of Pennsylvania. The self-proclaimed 2.0 CEO sat down with YCP to discuss the award, his college days, and his life post grad. From meeting his best friends and lifetime partners in business in his freshman year dorms to naming his company after the Spartans, YCP's influence runs deep.
Read the Q&A here or enjoy our Spartan Synopsis below!
York College of Pennsylvania Interview
A Spartan Synopsis
The Distinguished Alumni Achievement Award is an annual accolade presented by York College as part of their 2023 Spartans of the Year Award. This Award is to recognize alums who have shown exceptional dedication, excellence, and professional achievement.
From York College to Spartan Surfaces
Kevin is a 1996 graduate of York College. He regularly admits that his college years were spent building relationships far more than time spent at the library. It was there that Kevin met his wife, Tricia, and three of his closest friends, Dave Cipalla, Anthony Ferrante, and Chuck Schillaci – all of whom currently work for or closely with Spartan.
Kevin felt the entrepreneurial itch at a young age but decided to take the official plunge after learning the flooring ropes with a Japanese company post-graduation. In January 2007, he founded Spartan Surfaces, naming it after the York College Spartans. We built our company on Kevin's principles: strong relationships, excellent customer service, and a people-first company culture.
A Legacy of Engagement and Giving Back
As the years pass, Kevin's connection to YCP only strengthens. He frequently speaks to students and recently hosted several business majors at Spartan's HQ. His philanthropic spirit shines through his donations to the Spartan Advance Fund and his ongoing support for the college, especially as his oldest son, Dylan, now attends York and plays on the soccer team.
A Life of Balanced Achievements
Kevin often speaks of the balancing act between family and business when asked about his greatest accomplishment. He credits his success to the support of his family, especially his wife, Tricia, who has been the cornerstone of their family life.
Congratulations, Kevin, on this well-deserved recognition! Your story continues to inspire us all. We look forward to many more years of success and community involvement.
About Spartan
Spartan Surfaces, a subsidiary of Floor & Decor, is a specialty flooring supplier headquartered in Bel Air, MD. Employing over 150 team members, Spartan holds warehousing and offices in Maryland and Minnesota with showrooms in D.C. and Chicago. Its geography encompasses eighty-five percent of the United States, with continued expansion on the horizon. Taking a human-centered approach, Spartan prides itself on great people dedicated to great products, great families, great friendships, and great happiness. Whatever you're working on, we've got you covered!