March 27, 2023
Flooring University: PVC-Free Flooring 101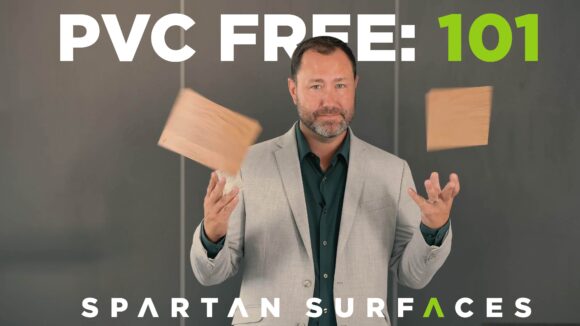 What is PVC you ask?
Welcome to PVC-Free flooring 101! Short for Polyvinyl Chloride, PVC is a type of plastic most often known for its use in pipes that carry water but it can be found in clothing, shoes and many other products. PVC is an abbreviation of "polyvinyl". 
Found in millions of household items around the world, PVC can be a hot topic in the world of flooring.  Tune in as Spartan's VP of Sales, Mike Blasek explains what it is, how it works, and all the amazing benefits you can enjoy by choosing this ecofriendly option. From improved indoor air quality to reduced carbon footprint, PVC Free flooring has none of the risks and all of the rewards.
PVC-Free flooring 101!
ABOUT SPARTAN
Spartan Surfaces, a subsidiary of Floor & Decor, is a specialty flooring supplier headquartered in Bel Air, MD. Employing over 150 team members, Spartan holds warehousing and offices in Maryland and Minnesota with showrooms in D.C. and Chicago.  Its geography encompasses seventy percent of the United States, with continued expansion on the horizon. Taking a human-centered approach, Spartan prides itself on great people dedicated to great products, great families, great friendships, and great happiness.