February 28, 2023
Flooring Answers: Acclimation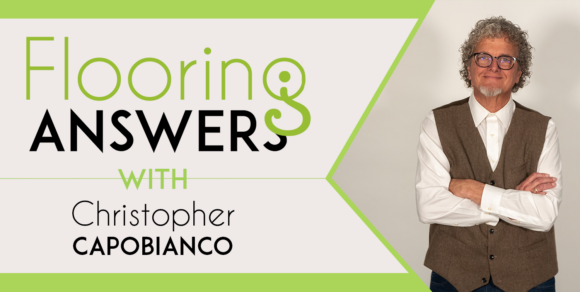 As seasons change and temperatures fluctuate, it's important to understand and address how our products react to environmental changes . Taking environmental factors into account is important and often overlooked. Read on for a dive into understanding and managing acclimation. Flooring Answers : Acclimation
Let's Define It
There are several definitions for Acclimation, but the one from dictionary.com applies here. "To accustom or become accustomed to a new climate or environment." For building materials, including floor covering products, that means the product and the space need to be at "in use" conditions before installation.  Acclimation can prevent problems with expansion and contraction of materials as temperatures change.
For work in occupied space, it can be an easy adjustment. Just get the material into the space ahead of time so it can acclimate to the site conditions. This is most important when the weather is very cold or very warm.  However, on new construction, you can't often rely on the heating/ventilation/air conditioning (HVAC) systems. This can make the conditions on site a real challenge.
How to Combat It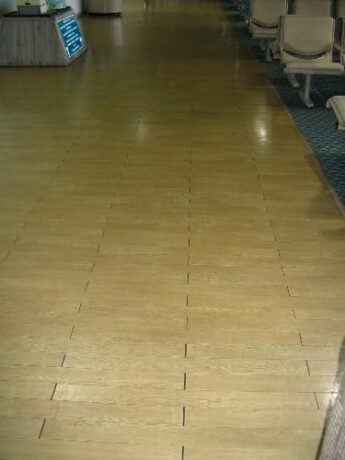 Acclimation is a common practice for natural products like wood and cork but uncommon on the resilient or carpet side. "By the book," most resilient floors must acclimate for 48 hours before installation. Even the best staff can ignore or not know the acclimation needed.  For example, storing and installing material in warm temps can cause post-install gaps at the seams. People often cite this as "shrinkage" but could be lack of acclimation. Products of particular concern are rectangular products such as wall base, edgings, or vinyl plank.  These products can stretch by carrying cartons over the shoulder, pulling warm material out of the end of the carton, or stretching the material end to end as it sets into adhesive.
These actions can stretch the material and the floor will look good until the temperature cools and the material returns to its original size.  The gaps that show up when this happens may seem like "shrinkage", but the material is returning to its original size.  If you ever notice an installation of vinyl flooring where there's gapping, it was likely installed in the summer without acclimation.  
There can also be issues with adhesives and underlayment. For example, plywood underlayment may tend to expand slightly going from cold to warm or shrink from warm to cool. In either case, this could cause joint telegraphing or worse if the material installs over it using an adhesive. Temperature extremes affect adhesives as well. It can impact set-up time after applying adhesive or curing time after the installing the floor.
Know the Standards
Specifiers, you can help in this regard. Get to know and quote from the industry standard, ASTM F710, Standard Practice for Preparing Concrete Floors to Receive Resilient Flooring. This covers in detail subjects like moisture testing, the importance of a clean substrate, patching and leveling. There is also an entire section on the subject of acclimation, shown below.
4.7  Acclimation—Because of the role acclimation plays in a successful installation, most resilient flooring manufacturers recommend or require that their flooring products, sundry supplies (adhesives, coatings, welding rods, etc.) and the area to receive the resilient flooring are properly conditioned. Consult flooring and sundry manufacturers for appropriate temperature and humidity range for the products to be installed and the area where the job site is located.
General recommendations are for the installation area and materials listed above to be maintained at a minimum of 65°F (18.3°C) and a maximum of 85°F (29.4°C) for 48 h before, during and for 48 h after completion of the installation. Relative humidity level extremes should also be avoided because of their influence on proper drying and curing of patching compounds and adhesives. General recommended humidity control level is between 35 – 55 %. If a system other than the permanent HVAC source is utilized, it must provide proper control of both temperature and humidity to recommended or specific levels for the appropriate time duration…*
In Conclusion
The good news is that a lot of construction people understand that temperature is important for many interior finishes. This means  temporary HVAC systems are coming into common use on construction sites.  It needs to maintain the space around the clock.  All flooring materials have acclimation recommendations as part of the installation instructions. Following them avoids some of the problems we've discussed here, reducing callbacks and eliminating complaints.
EXPLORE ALL OUR FLOORING ANSWER ARTICLES
EXPLORE ALL OUR FLOORING ANSWER VIDEOS
ABOUT CHRISTOPHER
Christopher Capobianco covers the NY Metro for Spartan.  He's a fourth-generation floor coverer whose family has been in the business since the 1930s. Christopher has been in it since the 70s in retail, distributor, and manufacturer sales, and also in training and technical support.  He has also been a part time columnist for flooring magazines since 1988, and is a long-time member of the ASTM Committee. You can reach him here.
ABOUT SPARTAN
Spartan Surfaces, a subsidiary of Floor & Decor, is a specialty flooring supplier headquartered in Bel Air, MD. Employing over 150 team members, Spartan holds warehousing and offices in Maryland and Minnesota with showrooms in D.C. and Chicago.  Its geography encompasses seventy percent of the United States, with continued expansion on the horizon. Taking a human-centered approach, Spartan prides itself on great people dedicated to great products, great families, great friendships, and great happiness. Whatever you're working on, we've got you covered!