May 10, 2023
Flooring Answers: A Designer's Guide to Substrates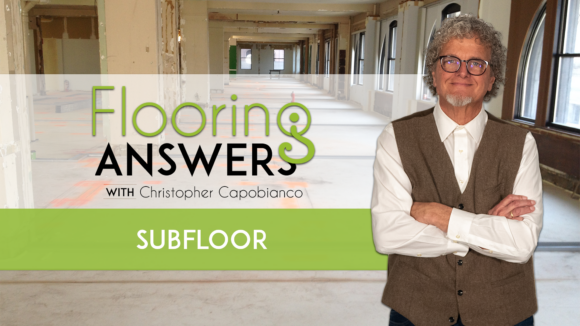 A Designer's Guide to Substrates
INDUSTRY STANDARDS
While most conversations with design professionals are specific to product application, color, and design, I'm sometimes asked questions about more technical details. I always appreciate hearing from the architect or designer who wants to include language in their specifications to help assure that the installation goes "by the book."
This is an important topic, I have always believed that more information is better, and I think it is important that the architect include specific language and not just say "install according to floor covering manufacturers guidelines." That is not to say that the manufacturer's instructions are not important, they are! However, the manufacturer may have more than one recommendation based on the usage, and other details specific to substrate issues are often not covered in the manufacturer's guidelines.
Industry standards are created in a consensus process and are not specific to one brand, so these can be used by specifiers across many projects regardless of flooring type. The document I refer to most frequently is called ASTM F710, Standard Practice for Preparing Concrete Floors to Receive Resilient Flooring*. I will quote from the document here in italics.
Despite the title, "although carpet tiles, carpet, wood flooring, coatings, films, and paints are not specifically included in the category of resilient floor coverings, the procedures included in this practice may be useful preparing concrete floors to receive such finishes."  Here are some examples of specification language I'd suggest..
A Designer's Guide to Substrates
CLEAN SUBSTRATES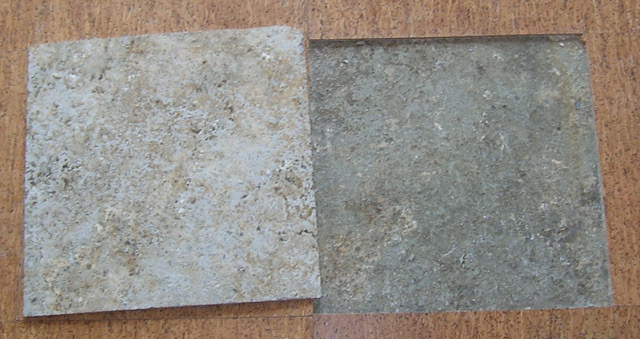 Whether it's new construction or existing space, installations over substrates that aren't clean can create problems for flooring that's glued down and even some that aren't. Here's an except of the language from F710: The surface of concrete floors shall be smooth, dry, and structurally sound. They shall be free of dust, wax, paint, oil, grease, residual adhesive, adhesive removers…film forming curing compounds, …mold mildew, and other foreign materials that might affect the rate of moisture dissipation from the concrete, the adhesion of flooring to the concrete, or cause a discoloration of the flooring from below. Non-chemical methods for removal, such as abrasive cleaning or bead blasting may be used on existing slabs…
SMOOTH SUBSTRATES AND JOINTS
Procedures for filling cracks and smoothing substrates can be confusing because there are a lot of different priming, patching, and leveling products.  The standard has specific language for the type of products so that the flooring subcontractor can select materials that are appropriate, and differentiates between a non-moving joint (i.e., saw cut) and an expansion joint, which moves.
FLAT, level substrates are necessary for rigid floor types with to no flexibility- such as long and/or wide wood planks, large format porcelain or ceramic tiles, and so on.
SMOOTH is key when resilient flooring is to be installed; it's important to achieve a smooth substrate, to prevent any imperfections from telegraphing through the finished flooring.
Surface cracks, grooves, depression, control, joints, or other non-moving joints, and other irregularities shall be filled or smooth with latex patching or underlayment compound recommended …for filling or smoothing or both. Patching or underlayment compound shall be moisture, mildew and alkali resistant, and for commercial installations shall provide a minimum of 3000 psi compressive strength…
Also, about expansion joints – they allow for the independent movement of concrete slabs and should always be honored. NEVER bridge over an expansion joint.
Joints such as expansion joints, isolation, joints, or other moving joints in concrete slabs shall not be filled with patching compound or covered with flooring.
CONCRETE TESTING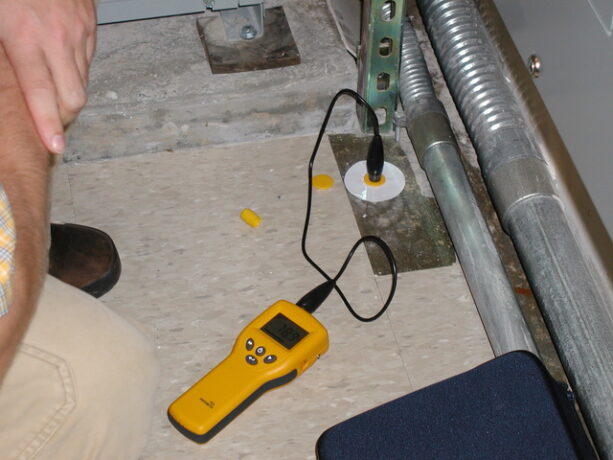 This one cuts across the entire industry from architects to installers and everyone in between. There are four very dangerous assumptions that are made regularly regarding concrete floor slabs.
Concrete cures in 28 days, so it is dry enough for floor covering.
Older concrete slabs had plenty of time to dry, so assume there are no moisture issues.
Concrete slabs above grade level are not in contact with the ground, so there is no concern about moisture.
Moisture only matters when installing sheet resilient flooring.
All these assumptions are incorrect, so it is very important to specify concrete moisture testing on every project. No assumptions, please!  There is only one way to know for sure. "All concrete slabs to receive resilient floor coverings shall be tested for moisture regardless of age or grade level."    Note the words "all" and "shall,"  no exceptions! There is also language about pH testing, and that is important as well.  Don't assume this is just about sheet resilient flooring!  Resilient tile (even VCT!), Carpet and wood flooring also have strict moisture testing standards using the same test methods.  The test method that is most used and considered the most accurate is the ASTM F2170* Relative Humidity test method that measures moisture inside the concrete.
A Designer's Guide to Substrates
ACCLIMATION
My last column covered this subject in detail, but flooring failures due to incorrect temperature conditions are a big issue, so it is worth repeating that for all floor covering materials: General recommendations are for the installation area and materials listed above to be maintained at a minimum of 65°F (18.3°C) and a maximum of 85°F (29.4°C) for 48 hours before, during and for 48 hours after completion of the installation A Designer's Guide to Substrates
When, in doubt, contact us here at Spartan Surfaces! Our team, such as our "Floor Prep Guru" Chuck Schillaci (who helped with this article)can be a great help.  I recommend asking these questions before writing specifications so floor covering projects are trouble free before, during and long after installation.
EXPLORE ALL OUR FLOORING ANSWER ARTICLES
EXPLORE ALL OUR FLOORING ANSWER VIDEOS
ABOUT CHRISTOPHER
Christopher Capobianco covers the NY Metro for Spartan.  He's a fourth-generation floor coverer whose family has been in the business since the 1930s. Christopher has been in it since the 70s in retail, distributor, and manufacturer sales, and also in training and technical support.  He has been a part-time columnist for flooring magazines since 1988, and a long-time member of the ASTM Committee. You can reach him here.
ABOUT SPARTAN
Spartan Surfaces, a subsidiary of Floor & Decor, is a specialty flooring supplier headquartered in Bel Air, MD. Employing over 150 team members, Spartan holds warehousing and offices in Maryland and Minnesota with showrooms in D.C. and Chicago.  Its geography encompasses seventy percent of the United States, with continued expansion on the horizon. Taking a human-centered approach, Spartan prides itself on great people dedicated to great products, great families, great friendships, and great happiness. Whatever you're working on, we've got you covered!