January 7, 2022
Entering 2022 with a new DO! A celebration of our Internal Teammates and Notes on Our New Processes

In an effort to keep our machine well-oiled, Spartan spent 2021 looking into what powers our successes, and where we need improvement. With this in mind, we have mastered a plan to restructure our organization in a way that streamlines our everyday processes to better help service our clients and create an easier path to success for our team.
Take a look at these changes below to congratulate those earning promotions and better understand your points of contact moving forward.

CUSTOMER EXPERIENCE – oversees all of customer service, with the goal of enhancing not only the experience for every customer, but also the experience for every Spartan employee.
Aimee Davis Shrout – VP of Customer Experience

SYSTEMS ADMINISTRATION – charged with keep all of our pricing and programs updated, the systems admin team works behind the scenes to ensure our data is always correct, so our customer service team can rely on it.
Vaughn Lewis – Systems Administrator

QUOTES DEPARTMENT – This team is the beginning of all quotes. Spearheading this process, they manage all quote requests, and put each quote into quotewerks.
Hope McGreevy – Quotes Team Lead
Alicia LaSorte – Quotes Rep

DATA VALIDATION TEAM – from the start of a quote, the data validation team ensures the properties of each quote and turns it into a PO in our system, putting all the information in correct programs so it can move on to customer service, freight, and product specialist teams.
Callie Abbate – Data Validation Team Lead
Darrius Berry – Data Validator

PRODUCT SPECIALIST DEPARTMENT – charged with supplier communications, product specialists are dedicated to a handful suppliers, working behind the scenes to ensure every PO goes off without a hitch.
Mike Thomas – Product Specialist Manager
Shawna Grace – Product Specialist 
Ken Mann – Product Specialist
Mike Lavrich – Product Specialist
Erika Muller – Product Specialist

FREIGHT + LOGISTICS TEAM – there to make sure all orders arrive on the client's doorstep, the freight and logistics team manages freight costs, and works with the trucking and warehouse teams on products coming out of Spartan warehouses.
Jake Verger – Freight + Logistics Manager

PURCHASING + INVENTORY TEAM – working directly with suppliers and Spartan's warehouse team, the purchasing + inventory team keeps our warehouse simplified and organized, helping support the warehouse and trucking teams as they manage and fulfill orders out of our HQ.
Tina Anello – Purchasing + Inventory Manager
Jessica Danko – Purchasing + Inventory Administrator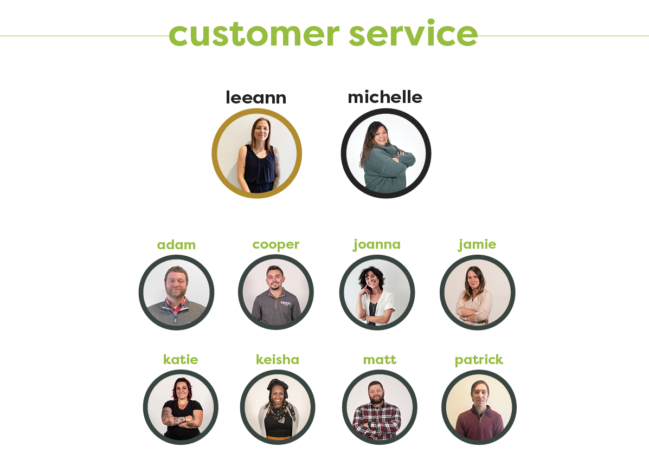 CUSTOMER SERVICE TEAM – as our client-facing team, customer service handles every PO from beginning to end, for every customer. They ensure the client stays in the know about the PO process; they are here to answer your questions and make sure that every PO has its T's crossed and its I's dotted.
LeeAnn Hoerr – Customer Service Team Lead