January 18, 2021
Boyko and LaPlante Migrate North for the Future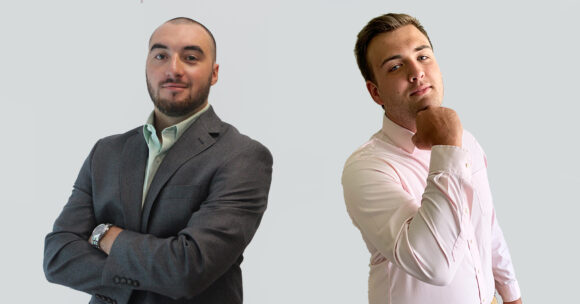 Moving on up, Spartan Reps Mike Boyko and Connor LaPlante make moves north, taking on new territories in Maryland and Virginia, respectively.

Boyko and LaPlante started their Spartan career as interns in Marketing, gaining insider knowledge in the industry before branching out to business development roles. Each spent more than a year in their initial territory, learning the ropes from other reps and getting support from their VP of Sales, Joe Blodgett. Their moves north come a year into assessing their strengths and realigning those with their new markets.
As a marketing intern in 2017, Boyko brought his Mass Communications education to the table immediately. He excelled in copywriting but knew he wanted a more hands-on approach and turned to sales after graduating in 2018. With a summer sneak peak into the industry, Boyko hit the streets of Richmond with the help of VP Joe Blodgett. Though Mike enjoyed blazing the trail in his new territory, his desire to be closer to home ultimately led Spartan to transition Boyko further north. Now a Distribution Rep, Mike Boyko will work with VP of Distribution, Tim Dormer, in the Southern Maryland and Northern Virginia markets.
When asked about his new position, Boyko said "I'm excited to learn a different side if Spartan Surfaces, I've been fortunate enough to be in Marketing, A&D Sales, and now I'm Distribution Sales."
One year after Boyko, Connor LaPlante made his name in Spartan's Marketing as an intern in 2018. It wasn't long before Connor knew that Spartan was a perfect fit for him long term. He split his internship between Marketing and Sales, wanting to learn the ins and outs of the business first-hand to be more prepared after graduation. In 2019, LaPlante joined Spartan full time in customer service before transitioning to Business Development in the Carolinas in January 2020. Bright-eyed and bushy-tailed, Connor was excited for his new southern lifestyle, and began to make a name for himself in the industry. Unfortunately, his in-person progress came to halt in March of 2020 with the COVID-19 pandemic. With two reps already taking the Carolinas by storm, it made sense to move Connor further north to Richmond.
When asked about his transition, LaPlante said "I made this transition for a better opportunity to be 'The Man' for this territory. I'm most excited about the potential for this area and being the sole person responsible for making sure it grows."
Please join us in congratulating Mike and Connor in their new roles and take a peek at the products in the DC Metro, and in Virginia!
ABOUT SPARTAN
Spartan Surfaces is a specialty flooring distribution company headquartered in Bel Air, MD with showrooms in D.C. and Chicago. Its geography encompasses the East Coast from Florida through New York as well as regions in the Midwest, Southeast and Texas. With over 100 employees in 30 states, Spartan continues to expand its footprint. Taking a human-centered approach, Spartan prides itself on great people dedicated to great products, great families, great friendships and great happiness.