March 19, 2019
Be A Part of Spartan's Sample Team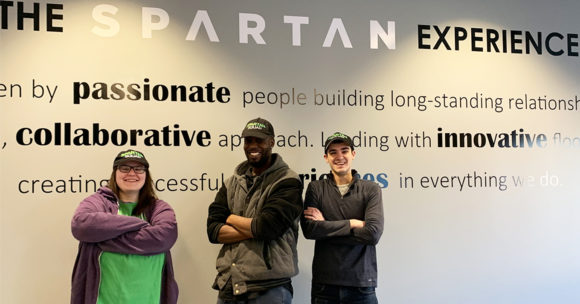 Spartan's Sample Squad is growing!  The team of three is in need of another set of hands to tackle day to day requests out of Spartan's HQ in Bel Air, MD.
The Sample Department Assistant is a very detail oriented and hands-on role. Working along with our warehouse team, the position includes but is not limited to receiving and picking sample items, shipping, inventory management, order and item verification, organizing warehouse pallets, and assisting teammates in various responsibilities.
The role will require operation of a forklift, stock picker, pallet jack, table saw, LVT cutter, and drill press. Computer skills are needed relating to Microsoft Outlook, Excel and ZOHO CRM. Training is available if not proficient in all three of these systems.
A brief synopsis of responsibilities is highlighted below.  To apply, please email resume and brief introduction to JoinUs@spartansurfaces.com.
Required Skills
Problem Solving: Can you successfully identify and resolve problems in a timely manner?
Attention to Detail:  The more attention to detail, the less likely things slip through the cracks. We need a detail-oriented team member dedicated to preventing errors.
Time Management: We need someone who can prioritize and manage their time efficiently.
Team Work: We're looking for someone who works well with others to get specific tasks completed.
Preferred Experience – 1 Year Experience
Distribution Warehouse Associate
Forklift and/or Stock Picker Operator
Shipping small parcels via FedEx and/or UPS
Primary Responsibilities
Prepare, pack, and ship all outgoing parcel shipments
Cut and stage samples
Receive and check incoming orders for inadequacies
Organize and manage inventory
Maintain a clean work space
Requirements
Must be detail-oriented
Must be able to lift 50 lbs.
Must be able to pass company background screening
ABOUT SPARTAN
Spartan provides a wonderful work environment filled with a great group of individuals.  Corporate culture is team oriented and laid back, but fast paced with a high demand for positive attitude and work efficiency.  Our core value is We Over Me, and we live this every day. Spartan is looking for long term team players to grow with the company.  This position includes a competitive salary, full benefits and 401K.  You can read more about our company, employees and product offering on our website – www.spartansurfaces.com or our social pages: LinkedIn / YouTube / Instagram.
Spartan Surfaces is a specialty flooring distribution company headquartered in Bel Air, MD with showrooms in D.C., New York City, and Chicago. Its geography encompasses the East Coast from Florida through New York as well as regions in the Midwest and Southeast. With over 100 employees in 27 states, Spartan continues to expand its footprint. Taking a human-centered approach, Spartan prides itself on great people dedicated to great products, great families, great friendships and great happiness.