July 29, 2021
Building National Sales, Lacognata Passes Florida's West Coast onto Four-Year Intern, Feiss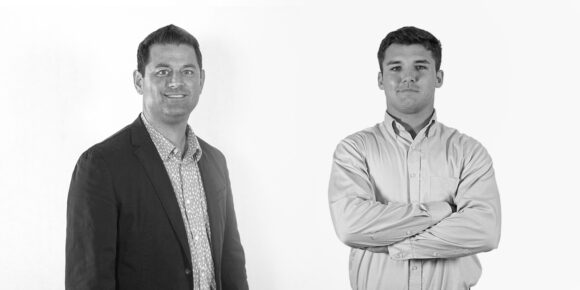 Keith Lacognata started his journey with Spartan in June 2016 running point on business development throughout the West Coast of Florida.  After building a name for himself and our manufacturing partners throughout the region, Lacognata is ready to take on his next challenge with the title of National Sales.
Effective July 1, 2021, Keith will be jet-setting from his home turf in Florida, running Spartan's business outside of our standard footprint and driving expansion across the country while mentoring four-year intern turned full-time employee, Ryan Feiss.  A Harford County native, Feiss spent four years interning in various positions in Spartan's Headquarters.  Today he kicks off his career in business development with a move to Florida, charged with taking over the accounts Keith has curated over the past five years.
"Ryan is a young, energetic and passionate person who will excel at continuing to grow established Spartan relationships in Southwest Florida while building new ones of his own," notes Lacognata of the transition.
Feiss graduated from Shepherd University in 2018 with a degree in Sports Marketing. During his college years, he was a starter and team captain on Shepherd's football team and chased his dream of playing professional football in the years following graduation. In 2020, Feiss decided to shift into the business world with a focus on the sales and marketing industry. He looks to channel his passion and competitiveness into a lifelong career.
"After working for Spartan and being part of the Spartan family throughout my college years, I am extremely excited to be back and ready to hit the ground running." Exclaims Feiss of his new role.
Nothing beats seeing our team members rise into new roles that provide them growth opportunities and excitement for their future.  Please join us in celebrating Keith and Ryan as they embark on their new positions.
You can download Ryan Feiss' contact card HERE and Keith Lacognata's contact card HERE.
ABOUT SPARTAN
Spartan Surfaces is a specialty flooring distribution company headquartered in Bel Air, MD with showrooms in D.C. and Chicago. Employing over 100 team members, its geography encompasses three-fifths of the United States with continued expansion on the horizon. Taking a human-centered approach, Spartan prides itself on great people dedicated to great products, great families, great friendships and great happiness.