November 9, 2023
10 Questions with Katie McGowan, Spartan's ATL Trailblazer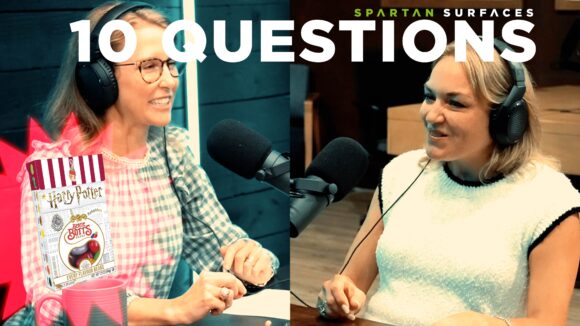 Spartan Surfaces presents the latest edition of our 10 Questions Series — this time, with a delightful twist. Join us as we venture below the surface with 10 questions with Katie McGowan, our business development maven from Atlanta, who shares not only her professional insights but also her palette for the unexpected — thanks to a whimsical array of Bertie Botts jellybeans from the magical world of Harry Potter.
Licorice, Dirt, and Tartar Sauce: An Unconventional Path to Success
Katie, known among colleagues for her eclectic nicknames like "Shady Katie" and "Tartar," embodies the spirit of Spartan Surfaces. Her journey in the design industry began with a passion for tartar sauce — an unlikely catalyst for her career in business development. As we delve into her story, Katie pairs each answer with a guess at the flavor of Harry Potter-themed jellybeans.
From Designer to Business Development
Transitioning from a designer in DC to a trailblazer in Atlanta, Katie recounts her initial foray into business development — a move suggested by a fellow rep who saw her potential. This shift wasn't without its challenges, like the taste of sausage-flavored jellybeans, unexpected but surprisingly palatable! Katie's narrative is a testament to taking chances, embracing change, and the occasional need to rely on others, much like Joe's timely intervention during a pivotal presentation.
Electric Bike: Resilience in the Face of Adversity
2020 brought unforeseen challenges for Katie, both professionally and personally. A health scare led to an epilepsy diagnosis, reshaping her life in Atlanta. Unable to drive, she turned to an electric bike, pedaling through adversity with samples in tow, a tale as engaging as it is inspiring. The discussion takes a lighter turn with each jellybean sampled, leading to laughter even when faced with the "ear wax" or "grass" flavors of life's unpredictable moments.
Building Connections and the Bad Girls Club
Katie highlights her role in creating the "Bad Girls Club," a network within Spartan Surfaces that champions female empowerment and camaraderie in a male-dominated industry. This initiative mirrors the supportive environment of the company, fostering growth, mentorship, and inclusion — values as essential to the organization as the diverse flavors of jellybeans consumed during this interview.
Celebrated Success and Future Aspirations
As our jellybean journey concludes with the less palatable flavors, Katie reflects on her accomplishments, ranking in the top 15 for sales within the company. Her secret? Finding her niche and being where she's celebrated, a sentiment as sweet as the best jellybean flavors. Looking ahead, Katie dreams of traveling and animal rescue — ambitions as bold and vibrant as the jellybeans sampled.
Join the Adventure with Spartan
10 Questions with Katie McGowan is just one episode in our 10 Questions Series. To dive deeper into her story and others like it, follow our podcast on Spotify. You can also watch the videos on YouTube, or visit our website. And remember, whether it's the unexpected taste of a jellybean or the twist in your career path, embrace the adventure with the same vigor and enthusiasm as Katie McGowan.
    EXPLORE THE 10 QUESTIONS VIDEO SERIES    
explore the 10 questions podcast series
About Spartan
Spartan Surfaces, a subsidiary of Floor & Decor, is a specialty flooring supplier headquartered in Bel Air, MD. Employing over 150 team members, Spartan holds warehousing and offices in Maryland and Minnesota with showrooms in D.C.and Chicago. Its geography encompasses eighty-five percent of the United States, with continued expansion on the horizon. Taking a human-centered approach, Spartan prides itself on great people dedicated to great products, great families, great friendships, and great happiness. Whatever you're working on, we've got you covered!